This page has a few Ruin related sightings on and off line.

This band ( the original! ) was established in 1981 and is not to be confused with the scores of other bands (etc.) that have followed since then and are using "ruin" in their name.

Check out the discussion forum and guestbook to view more and add your own.


---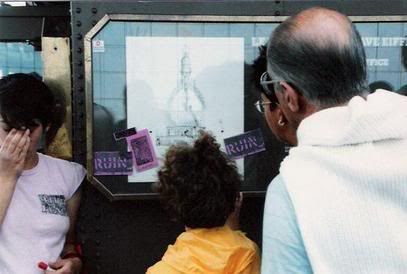 Eiffel tower ruined by Peter Mattsson, 1985
---


Eric de Jesus reports that his 'zine, RAW POGO ON THE SCAFFOLD interviewd Tonie Joy of MOSS ICON / UNIVERSAL ORDER OF ARRMEGEON / CONVOCATION OF... fame, sometime around 1999. Tonie Joy mentions Ruin as a milestone of his punk youth. Eric adds, "and it's obvious from the names of his bands and their lyrics that ruin had a lasting effect. "

The relevant copy is pasted below.
---
Ruin symbol as tattoo

Justin Duerr of Northern Liberties pointed me to a web page on YDI that shows the ruin symbol on vocalist Jackal. Jackal was the first vocalist I ever hear do the gutteral growl singing that has grown so common in metal and punk. Check out their track, "I Killed My Family" from the "Get Off Our Backs" compilation album of Philly Punk if you get a chance.

Later ran into Justin and he tells me he saw a recent interview with Jackal in Maximum Rock n Roll and that YDI have reformed! (2005)

Speaking of tattoos and Northern Liberites, here's a pic of NL bassist, Kebin Unlord that shows his ruin tatoo.






Kebin tells me he was listening to WKDU 91.7 fm when on comes Ruin's "Great Divide" and Northern Liberties' cover of the same track back to back. Woohoo! (2006)
---


HE HO covered by the Paul Green School of Rock
reported by Dylan aka Twentyagon

Dylan tells me that The Paul Green School of Rock performed a punk rock tribute show that closed with "HE-HO."

PGSR are a Philadelphia collective of children and adults who perform rock tribute shows internationally. I see their amusing posters all over center city and their website is fun to visit.

Dylan was pulled along to a Doors tribute show one Saturday. A guy from the PGSR approached Dylan and asked him about the Ruin shirt he was wearing.
"..my Dad's in the band..[etc.]"
"...AWESOME... we covered "HE HO" for our punk show closer earlier this afternoon.." (2004)


---


Ruin listed in a book

Richard Hutchins reports Ruin is listed in the Philly section of Steve Blush's book and in the discography of hardcore bands at the end.


---


White Rabbit by Ruin reached #14 in the all time top 40 download list of ZEBOX.com November 29, 2003.


---


City Paper mentions:
Ten Years After by A.D. Amorisi
A search for "Ruin" on their site will yield even more articles mentioning Ruin.


---


Elizabeth of More Fiends disses Ruin May 15 1997

Not really, but yeah who ever made that poster was off the mark by listing Ruin as "West Philla Punk." Ruin played West Philly all ages shows, including benefits, but were probably unaware of the scene Ms. Fiend refers to.


---


Excerpt from Tonie Joy interview by Eric de Jesus:
(copy paste edit from site) see report above

TONIE-...... I meant to ask you about this; what do you know about the band RUIN from Philadelphia?

ERIC-uh, I saw them a couple of times. They were pretty old.

TONIE-cuz I saw them in Baltimore in '86 or '87 and thought they were amazing.

ERIC-they were like the first "Buddhist" band. Before NY bands got into "Buddhism" or Krishna or whatever, they were like Soka Ga Kai Buddhists or something.

TONIE- in the context I saw them, they were just amazing because back then Baltimore was really fucked up and violent and drunk. It was at this hall and there were fights and people outside with guns and knives. Just crazy hardcore weirdness.

ERIC-were they chanting? That was their thing.

TONIE-they weren't chanting but they got up on stage all dressed in white with all these candles burning. And everyone's just like "oh no", throwing bottles at them, yelling "fuck you". GOVERNMENT ISSUE was supposed to play and they canceled. The sign said that one of them fell off the stage at CBGBs and broke his leg, but I think they probably showed up, saw how fucked up the show was and just said "fuck this" and split back to DC.

ERIC-is that how Baltimore always used to be?

TONIE-yeah, in the mid-80s it was like that. And the other band that played were THE SERIAL KILLERS from Philadelphia.

ERIC-Oh god! they sucked. But they were cool people.

TONIE-well they played and the crowd was totally on their wavelength. And then RUIN gets up there. And when they started playing they just floored everybody. Their music was so powerful.

ERIC-actually the town I was from always had a few kid bands that would do "proof" or some other RUIN cover. Just cuz they were one of the big bands from Philly. I can totally see you digging the Buddhism.

TONIE-I went to the show with these people who were not into hardcore at all. They had their KRAFTWERK tribute band and like DAVID SYLVAIN and whatever weird shit was happening then, and the one guy just adamantly hated hardcore; and he was like "OK, RUIN is the one greatest hardcore band ever!"

ERIC-they would love to hear that. They played a reunion show a few months ago to like 20 people. I was never so into RUIN.

[note: Eric's math is way off, lol]

TONIE-it just had a big impact on me then, because it was punk or hardcore music, but with an attitude that was totally different.

ERIC-thats for sure. I think they were all wigged-out Temple University religion majors. Actually there were a few other bands there with the same weird drugged out spirituality thing.

TONIE-I didn't even know about all that 'til years later, but just the way they were that night, Cuz if you asked any kid at that show what his favorite hardcore band was he would've been like "uh the SERIAL KILLERS" or "I came to see GI". But in the end they were floored.